Advantages of WollasticTM Rubberized Bound Fibre

WollasticTM Fibre has the unique ability to compress when dropped, absorbing the vibration and shock.
WollasticTM Fibre will recover under multiple impacts.
WollasticTM Fibre is especially suited to provide for packaging items where G Factor is 25G's or less.
WollasticTM Fibre can be manufactured to cushion and protect in temperatures ranging from -65oF to +150oF upon request.
WollasticTM Fibre is nonconductive and static-free.
WollasticTM Fibre is pliable and will conform to any surface. The fibre can be molded to encapsulate a product to protect it from damage in any direction.
The open weave design allows water to pass through the material. Once wet, the material will retain its integrity.
WollasticTM Fibre can be made fire-retardant.
WollasticTM Fibre can be die-cut to almost any shape to provide specialized packaging for almost any item.
WollasticTM Fibre is environmentally safe:

The core fibre is a natural plant fibre.
The bonding agent is latex.
The fibre is reusable.
For disposal purposes, the fibre will biodegrade.
When forced-air incinerated, the material will burn to a clean ash.

WollasticTM Fibre is cost-effective. back to top of page
Specifications of WollasticTM Rubberized Bound Fibre

Available through General Services Administration (GSA) Contracts and conforms to Federal Specification PPP-C-1120, Grades 1, 2 and 3.
Manufactured in Four Densities ranging from Type II (Soft) to Type V (Extra Firm).
Thicknesses available from .5" to 3" in one layer.
Laminations to any thickness are available.
Available backed with netting or without.
Standard size sheets are 24" x 72" and 48" x 72".
Standard size rolls are 24" x 75' and 48" x 75'.
Custom size sheets & rolls are available upon request. back to top of page
Commercial Applications of WollasticTM Rubberized Bound Fibre
Packaging Products: WollasticTM Fibre has been used for many years as a safe and economical packaging product. Our manufacturing process gives us the flexibility to meet your individual needs. Die-cuts and drum molds will conform to your product' s specifications. WollasticTM Fibre is also produced in cut sizes and sheets to minimize handling and speed up packaging, while maintaining the quality and safety of your shipments. Some of the various items packed in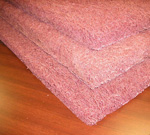 WollasticTM Fibre are:
shock-sensitive components
missile guidance systems
computers
electronic components.
Filtering Products: F. P. Woll & Company manufactures natural hog hair air filters for home, office and industrial use. back to top of page
Filter Media Applications of WollasticTM Rubberized Bound Fibre
F. P. Woll's "Natural Fibre Filter" is available in all types and sizes including pads, rolls & special die cuts. This unique filter medium is made from organic fibers curled and laid onto scrim backing, coated with special resin then heat treated for final adhesion creating a semi-rigid self supporting

filter.
This filter medium is ideal for many air filtration applications such as:
Air Conditioning Units
Heating
Air Handlers
Coolers
Paint Spray Booths.
These filters also act as a prefilter for some requirements. High humidity environments are well suited for this medium where its rugged and durable construction outlast many other filters. Natural fibre medium is versatile enough to withstand many cleanings by vacuuming or rinsing in tap water.
ASHRAE tested
Special sizes
Fast Delivery
Competitive prices.
Filtering products with our Earth's Environment in Mind! back to top of page
Environmental Applications of WollasticTM Rubberized Bound Fibre
Scrubbing Pads - Natural fibre WollasticTM scrubbing pads are effective in removing d

irt and grime build-up from buildings while reducing fibre counts on job sites. The pads are also marked for heavy duty scrubbing applications such as tubs, tile and boat bottoms.
Erosion Control Blankets - WollasticTM Fibre blankets effectively control erosion problems. The Fibre Blankets minimize the effects of high velocity water runoff from stream banks, ponds, steep slopes, and rain. This helps keep topsoil from washing away. The open weave design allows water to pass through without damaging vegetation root systems. The root systems are then allowed to naturally stabilize an area. The Wollastic Fibre eventually then biodegrades into an organic mulch.
Wetlands Reconstruction - Eroding wetlands have damaged our fragile ecosystem. WollasticTM mats provide protection of various shoreline plants from moderate to high wave energies. And at the same time, trap sediment which leads to stabilization of the shoreline.
Aquaculture - An increasing demand for fish coupled by increasing amounts of pollution in lakes and rivers has led to the advent of a new and profitable industry: aquafarming. WollasticTM Fibre sheets are laid in man-made ponds and fisheries to collect fish eggs as they are laid. The eggs are then transferred to a new fish free pool where they will be allowed to develop, or, to be used as food for other fish.
Oil Spill Cleanup - One of the most striking and detrimental things that can happen to the environment are oil spills. WollasticTM Fibre has proven effective as an absorbent of crude oil. Absorbency rates are as high as 95%. WollasticTM Fibre mats are placed along spill areas and allowed to soak up the spillage. Material can be wrapped around sorbent boom or staked along beaches and marshlands to prevent contamination. When saturated, the material will burn down to a clean ash when incinerated.